What Is a Social Enterprise?
A social enterprise uses business strategies and principles to meet a social or environmental mission.

Eco-Cycle fills a community need for Zero Waste services and programs using mission-based business activities, including hauling recyclable and compostable materials from businesses, and innovating and operating Zero Waste facilities such as the Boulder County Recycling Center (BCRC) and the Center for Hard-to-Recycle Materials (CHaRM). We then use revenues from these activities to fund our Zero Waste education, outreach, research, and advocacy work.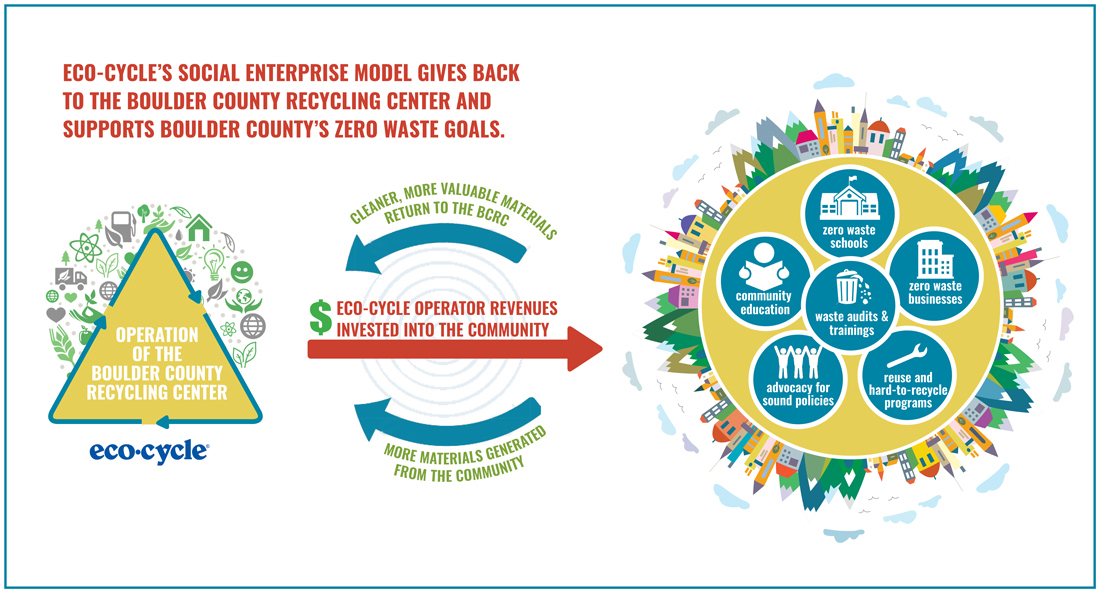 How Does the Nonprofit "Social Enterprise" Approach Differ from a For-Profit Entity?
The difference lies in two areas:
The reason the company exists, and
Where the revenues and profits go.
A for-profit business may be philanthropic with some of its revenues and will be rewarded with a tax deduction. But ultimately, all profits must go to their owners and financial shareholders because that is the reason the company exists—to make profits.
A nonprofit social enterprise exists to fulfill a social and/or environmental mission, and 100% of any profits made are spent to further the mission.
Eco-Cycle's Social Enterprise Work
Read our report, Not Just Any Recycler

, to learn more

about how Eco-Cycle operates as a nonprofit social enterprise
In addition to being a mission-based social enterprise, Eco-Cycle partners with other social enterprises wherever we can—for example, to help us recapture hard-to-recycle materials collected at CHaRM.
Eco-Cycle is known for innovating at the frontier of Zero Waste. We are always looking for new social enterprise partners to help further the cause—please contact us with your ideas!