Alternatives to Polystyrene: Sustainable Serviceware
Containers and packaging alone contribute more than 23% of the material reaching landfills in the US, including a large amount of food-related containers and packaging. A recent study found that 18% of ocean plastics are plastic food containers, cutlery, and wrappers. These numbers make it clear that we need to reduce the overall amount of packaging we create and use.
To help retail food establishments transition away from polystyrene, choose more sustainable serviceware, and reduce overall waste, Eco-Cycle presents The Guide to Sustainable Serviceware for Restaurants and Food Prep Businesses!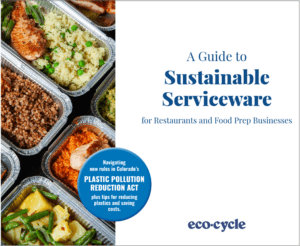 This guide is intended to be used by food retailers and municipalities around the state. It provides:
Guidance on the most sustainable choices for serviceware and packaging, as well as guidance on serviceware to be avoided or minimized.


Examples of serviceware and packaging options for different types of food (dry, wet, beverages, etc.).


Environmental, cost, and disposal considerations for different serviceware and packaging choices.



Tips for reducing waste and costs through behavior changes.
This tool has been made possible by funding from the City of Boulder, City of Lakewood, City of Fort Collins, Town of Vail, Town of Breckenridge and in partnership with Boulder County's PACE Partners for a Clean Environment.

For jurisdictions that would like to help fund future tools or would like to customize this tool for distribution in their community, please email [email protected].
Adopting Practices in the Toolkit Could Be Good for Business
Numerous polls and studies show that consumers want to support companies that reduce packaging and make it easy for them to make more environmentally friendly choices when purchasing items and food. Further, many employees take pride in knowing they work for a company that cares about doing the right thing for the environment and for human health. For this reason, we hope that businesses will not only adopt these practices, but also publicize their actions to become more environmentally friendly to make it easy for customers to recognize the business's values-driven choices and support them in helping to reduce waste.
Polystyrene Ban Enforced by Local Governments
HB21-1162, The Plastic Pollution Reduction Act, gives the power of enforcement to local governments. In addition to municipalities, the law allows counties to seek injunctive relief and/or to assess civil penalties against retail food establishments in violation of the law and within the unincorporated boundaries of the counties. Civil penalties may be up to $500 for second violations and up to $1,000 for third or subsequent violations. Schools are excluded from enforcement.