Zero Waste Is More Than Just Recycling
Building a Zero Waste community is bigger than just changing individual behavior, and it's bigger than just recycling or composting. Zero Waste addresses the entire social system of how we make, consume, and dispose of our "stuff."
Through local Zero Waste actions, we can directly and positively impact the biggest global challenges of our time—climate change, human health risks, ecosystem collapse, and social/political conflicts over access to resources.
Here's Where We Are Now . . .
. . . and why we need to change the entire system of how we make, use, and dispose of the stuff in our lives. Currently, our production system goes one way—from the earth to the dump:
We extract natural resources such as trees, precious metals, and petroleum.
We manufacture them—often through polluting, toxic, and wasteful practices—into products designed primarily for convenience . . . and destined for the dump.
We distribute them to communities, often shipping them long distances—from manufacturing to sale.
After we buy and use products, we pitch them into a landfill or burn them in an incinerator, which destroys the value of the resources used to make those products. When we need new products, we just head back to the natural resources like they're in infinite supply.

When we think about the problem of "waste," we usually think about what's in our trash cans, and we focus on how to make that waste "go away." But the waste you see in your trash can is only a fraction of the REAL problem (1/87, to be exact).
For every can of garbage at the curb, there are 87 cans' worth of materials that come from this linear production system and the way we extract, manufacture, and destroy our resources.
This system is broken, and here's why:

Zero Waste Systems: Meeting the Needs of the 21st Century and Beyond
A Zero Waste system is cyclical, as in nature, and does two fundamental things: it redesigns our systems and resource use—from product design to disposal—to prevent the careless and polluting practices that lead to so much waste. It then captures discards and uses them, instead of natural resources, to make new products, creating a much cleaner manufacturing process with far less pollution. This new system carries with it new businesses and jobs to feed local economies.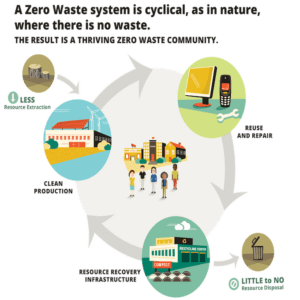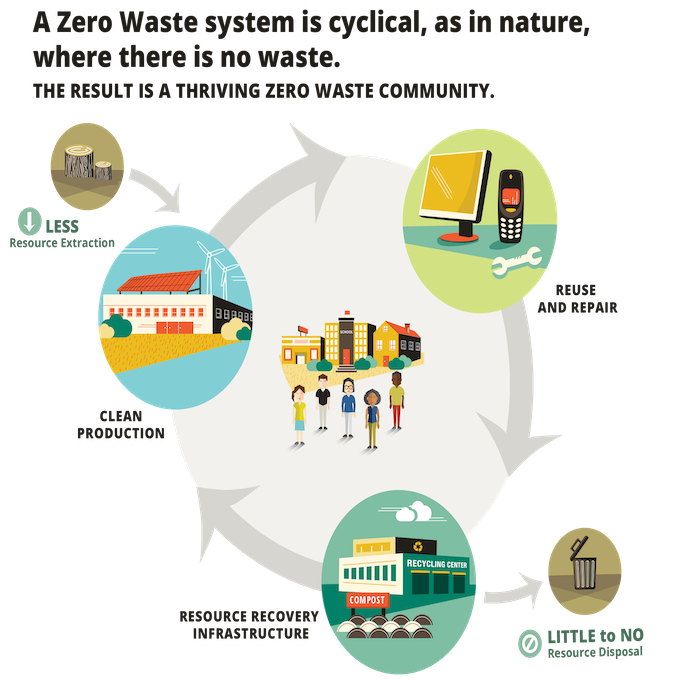 A Zero Waste system has:
International Definition of Zero Waste
The Zero Waste International Alliance adopted the first peer-reviewed, internationally accepted definition of Zero Waste. Eco-Cycle stands by this as the official definition of Zero Waste:
"Zero Waste is a goal that is ethical, economical, efficient and visionary, to guide people in changing their lifestyles and practices to emulate sustainable natural cycles, where all discarded materials are designed to become resources for others to use. Zero Waste means designing and managing products and processes to systematically avoid and eliminate the volume and toxicity of waste and materials, conserve and recover all resources, and not burn or bury them. Implementing Zero Waste will eliminate all discharges to land, water or air that are a threat to planetary, human, animal or plant health."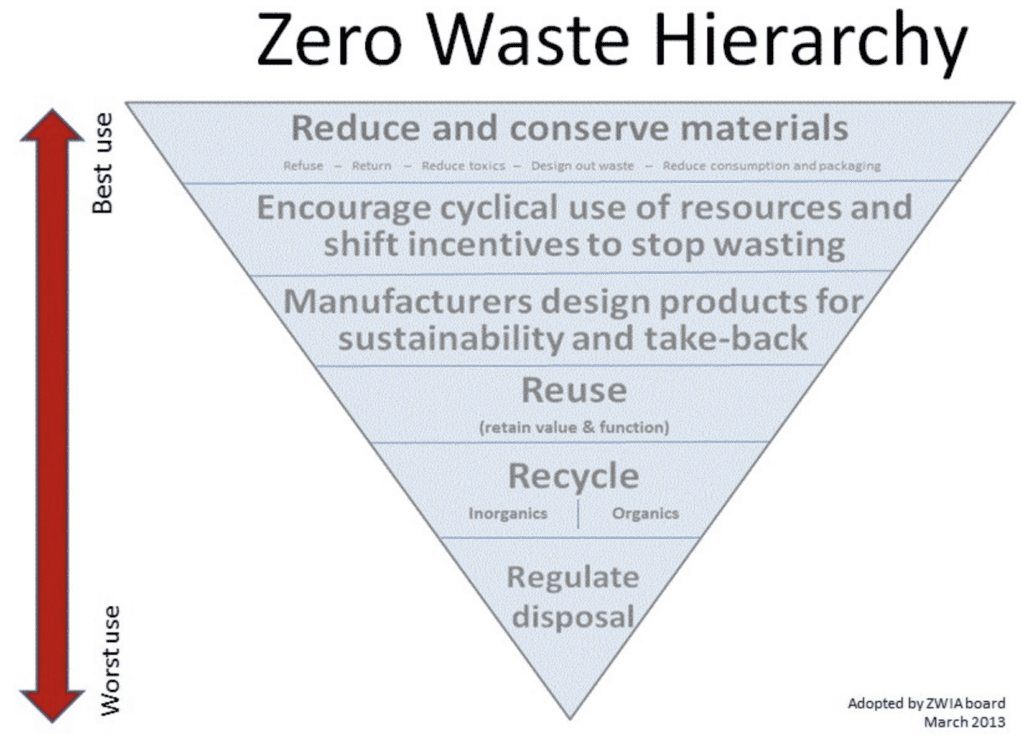 What Zero Waste Is Not
Let's dig deeper into discovering what Zero Waste IS by talking about what Zero Waste IS NOT:
Zero Waste Is Not Just 100% Recycling
Yes, we do want to recycle everything . . . but recycling comes AFTER waste prevention, product redesign, and reuse. Even when everything is recycled, there can still be unnecessary or poorly designed products or packaging that waste energy, water, and other scarce resources.
Take bottled water, for example. Even if we recycled 100% of our bottled water containers, it would be better to have avoided creating the container in the first place by refilling a reusable water bottle. Tap water uses far fewer resources, produces far fewer greenhouse gas emissions, and greatly reduces toxic emissions.
A Zero Waste approach evaluates a product's entire life cycle, not just whether it can be recycled or composted.
Zero Waste Does Not Require Getting to Absolute Zero
The Zero Waste International Alliance defines Zero Waste as 90% diversion from landfills and incinerators. We can make a dramatic shift toward Zero Waste today by setting up policies and infrastructure to redesign our production system to use fewer resources and design products for recovery, not the dump. And while we're moving toward Zero Waste, we can work with industries to fulfill their role by redesigning their products and packaging so there are no more leftover, toxic, and nonrecyclable items.
When we choose Zero Waste, it does not require getting to absolute zero. We are committing to pursue the goal of zero.
Zero Waste Does Not Include Waste Incineration, "Chemical Recycling," or Current Waste-to-Energy (WTE) Practices
When you burn something to make energy, it can't be used again, and that is the ultimate act of wasting. Waste-to-energy (WTE) systems perpetuate our throw-away society and unsustainable consumption. When we burn materials to produce energy, the resources used to make those products and packaging are destroyed, which means we must continue to extract more resources from the Earth to make new products. And we'll use MORE energy in the process—more than was generated in the WTE facility. That is not moving us toward a circular economy, and that is not Zero Waste.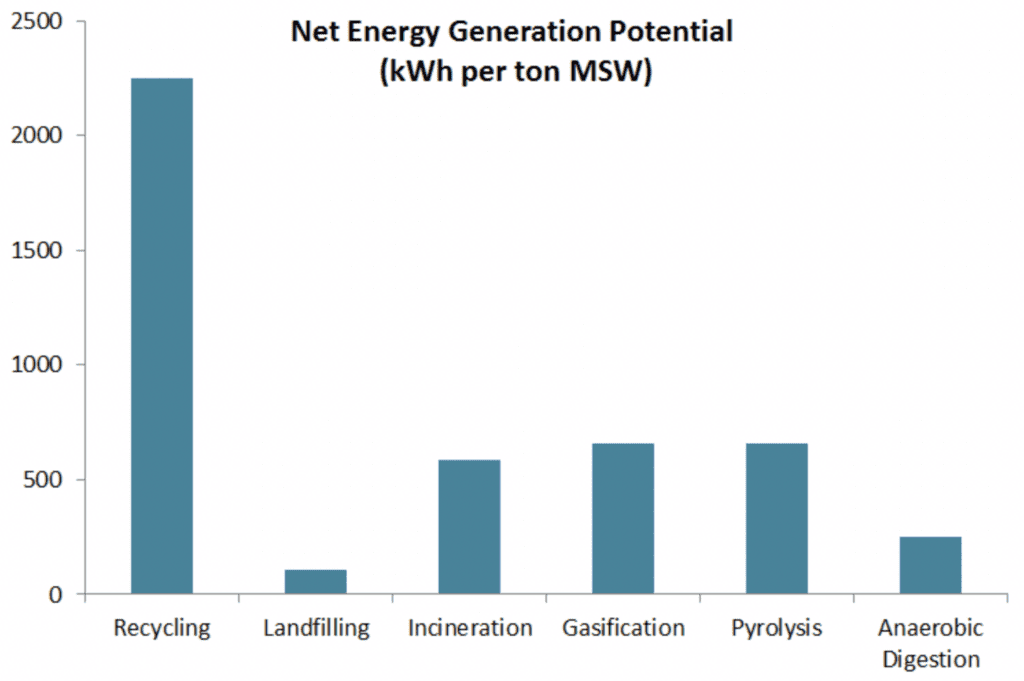 Mass burn incineration, pyrolysis, gasification, so-called "chemical recycling," and plasma arc systems are all WTE systems that destroy resources and are not part of Zero Waste. Get the facts on why these technologies are bad for our environment, economy, and communities through the position papers on chemical recycling and so-called "plastics-to-fuel" technologies we authored as founding members of the Alliance of Mission-Based Recyclers.
Zero Waste only accepts one current technology for making energy from waste: anaerobic digestion. Anaerobic digesters use a low-temperature thermal process to speed up the decomposition of biodegradable, organic materials. The resulting biogas can be used to produce energy and the remaining solids, called digestate, can be conventionally composted.
"Zero Waste to Landfill" Is Not Zero Waste
Many companies and communities are adopting a "zero waste to landfill" goal (which focuses on reducing waste going to landfills) instead of a Zero Waste goal. The problem with having a singular focus on reducing landfill waste implies that making energy by burning waste is preferable. Waste-to-energy (WTE) is a disposal technology that destroys resources forever—it doesn't reduce waste or protect natural resources, and in the end we will use more energy to manufacture new products from virgin materials than we produced burning trash for energy.
The true goal of Zero Waste is not just zero waste to landfill or zero waste-to-energy, but redesigning our entire cycle of resource extraction, consumption, and discard management so no resources are wasted at any point along the way.
There are legitimate businesses making great strides toward Zero Waste: Nearly half of General Motors (GM) factories recycle and reuse an average of 97% of their discards. But companies or communities that tout "zero waste to landfill" and then burn half of their discards are greenwashing their efforts, and we need to demand that they aim for true Zero Waste.
Zero Waste Is Not Waste Management—It Is Resource Management
The modern waste industry was born out of the need to reduce public health risks from waste. Its goal is to manage waste in an economically and environmentally acceptable way. It accepts waste as a given.
The Zero Waste industry aims to eliminate the very concept of waste. There is no such thing as waste in nature, only resources—so we need a paradigm shift from managing waste to managing resources. And to get there, we need everyone on board, from citizens to government officials to industrial designers.