What is the BCRC?
The Boulder County Recycling Center (BCRC) is a materials recovery facility owned by Boulder County and operated by Eco-Cycle that collects and processes single stream recycling. Recyclable materials can be dropped off by residents and small businesses at the public drop-off center, located outside the BCRC, at 1901 63rd Street in Boulder, 24 hours and seven days per week.
Eco-Cycle Operates the BCRC as a Nonprofit Social Enterprise
Have you ever wondered where your recyclables go after they are collected from your curb or business in Boulder County and some neighboring areas? Do they actually get recycled? All recyclables collected within the county, no matter the hauler, are taken to the BCRC. Eco-Cycle uses revenue earned through the BCRC operations contract with Boulder County and reinvests it into our Zero Waste program and policy efforts, such as our education and outreach work, our Green Star Schools program, and our work to pass public policy that creates systemic, Zero Waste change.
A Quick History
Eco-Cycle has been the community's recycler since we created Boulder's first curbside recycling program back in 1976. For 25 years, we processed and marketed materials outdoors, using equipment we had engineered and even built ourselves, creating recycling history with one of the first commingled container sort lines in the state and one of the first elevated paper sorting systems. Through the wind, rain, snow, and more wind, we processed more materials than any other outdoor recycling facility in the country—over 40,000 tons' worth!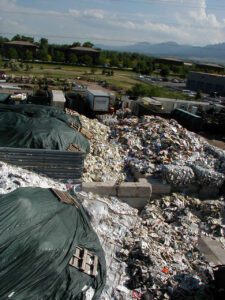 As the volume of material grew, we needed to move our operations indoors, so in 1994, Eco-Cycle partnered with many others in the community to campaign for and successfully pass a seven-year sales tax to build what is now the Boulder County Recycling Center (BCRC). The BCRC was built in 2001, and Eco-Cycle was awarded the contract to continue in our role as the community's recycler, processing and marketing all recyclables collected within the county.
In 2017, the Boulder County Recycling Center installed optical sorters, which use optic technology and compressed air to sort different types of plastic materials delivered to the recycling center, which previously had to be sorted by hand.
This optical sorter allowed us to begin recycling more types of plastic more efficiently. In addition to plastic "bottles, tubs, jugs and jars," the program could begin accepting plastic "clamshell" containers (such as berry containers) and takeout containers, rigid plastics such as five-gallon buckets, and plastic lawn toys. Please note: There are still many plastics that are NOT accepted in the recycling program, as no markets exist for them. Please closely follow recycling guidelines to ensure you are recycling only the plastics accepted in this program.
Our Mission-Based Ethic as the Community's Recycling Operator
Eco-Cycle isn't just any recycler. The reason we incorporated back in 1976 was to recover precious natural resources in the form of recyclables and put them back into the production system to relieve the burden on our planet and its trees, minerals, water, etc. We do not see recycling as a "waste management strategy," but rather as a means of generating a greener feedstock for our society's products and packaging. We are constantly working to educate the community to share this view of our discards, and in so doing, help us continue to generate some of the cleanest, most marketable recyclables in the country. Because our mission and commitment to planet and people is our core function, we work with government entities to pass policy that supports ethical, transparent, authentic recycling, and also with producers and packagers to understand their role in designing products that can be easily recycled as well as buying back their products to create viable end markets for recycling.
How does recycling at the BCRC work?
After your materials leave your home or workplace, they arrive all mixed together at the BCRC. From there, automatic sorting equipment, as well as our employees, work to separate the single-stream materials into their various categories, such as cardboard, paper, glass, steel, aluminum, and the many different resin types of plastic. Materials go through a very complicated maze of conveyor belts, screens, magnets, optical sorters, and eddy currents while human sorters grab materials off the line that shouldn't be there, such as plastic bags or nonrecyclable plastic. Once the materials make their way through the system and are properly sorted into their designated categories, they are baled and loaded onto railroad cars and trucks and sent to markets for remanufacture. It's a complicated process, but lots of fun to see!