The End of Autumn Doesn't Mean the End of Composting
Wintertime doesn't have to bring a stop to composting your food and yard scraps. The process through which composting happens (microorganisms eating decaying organic matter) doesn't stop during cold weather, but it does slow down, which can cause your compost bin to get "backed up" with too many food scraps and not enough time for the worms (if you are vermicomposting) and microorganisms to break everything down.
Compost all year long: Winterize your bin!
A few simple techniques can help you keep your compost bin healthy and jump-start on compost-making in the spring. Here are some tips for winterizing your compost bin.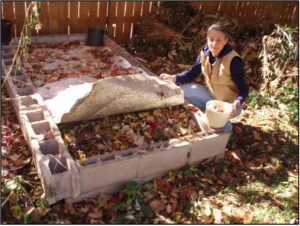 A worm bin built into the ground helps to protect the contents from the elements and gives the worms a chance to burrow deep to avoid the coldest weather. Note the insulating sheet of foil-backed bubble wrap and 4″ layer of dry leaves for further insulation.
How to Keep Your Compost Bin Active This Winter
​Avoid using tall, skinny compost bins: Choose bin designs that have a wide top and low sides. Tall, skinny bins inevitably freeze or desiccate during Colorado winters.
Moisten: Freezing and thawing dries out the top several inches of your pile. Before you empty your kitchen food-scrap bucket, run enough water into it that when you suspend it by the handle and twist your wrist quickly from side to side (you may want to do this outside if your bucket is full), the contents separate from the sides of the bucket. You can then spread all the contents over the top of your pile. This will replace some of that lost water and leave you with a cleaner bin, and it's actually a good practice year-round in drier climates.
Insulate: Again, this isn't necessarily going to help with tall, relatively skinny bins, but an old carpet or rug often works well as insulation on top of the pile surface. You can also use a foil-backed bubble insulation sheet available by the foot at local hardware stores, which holds up for years and provides just enough insulation (and water retention) to keep things moving when layered on top of the pile. You can get similar results by reusing those Mylar-covered bubble mailers that come with some grocery deliveries (which unfortunately cannot be recycled at CHaRM, but offer a great opportunity for reuse should you ever come across them!).
Don't be a stranger: The best advice we can give for any time of year is to pay attention to your compost pile. Every Colorado winter has a stretch of several weeks that may be just too cold and snowy to do anything but dump your scrap bin onto your pile and run back inside, but don't make that your habit through spring! Take a moment on a nice sunny day to go have a look and spread out those thawed chunks of food waste, adding some extra water if the top looks dry. If you're motivated, you could take the opportunity to turn the whole pile (but never turn a vermicompost pile—see worm management tips on our vermicomposting page).