We're Losing Soil, and Fast
​Our soils are becoming depleted of their nutrients, but our trash is full of nutrient-rich grass clippings and leaves, banana peels, leftover pizza, and other compostable materials. Put the compostables back in the soil, and we can grow healthy food, fight climate change, and reduce waste.
Dirt is everywhere, but healthy soil isn't. It can take 500 years to build one good inch of topsoil, and that's the soil that grows all the plants and food we—and every species on Earth—need to survive.
The problem is we're losing our topsoil through overgrazing, intensive farming, and more urban development. In the US, 28% of cropland is losing soil faster than it can regenerate. Nearly one-third of the world's cropland has been abandoned because of soil erosion and degradation over the past 40 years.
Composting Restores Soil to Produce Healthier Food
Meanwhile, behind most homes, businesses, and schools are trash cans overflowing with organics containing the nutrients that our soil needs. Nearly half of the trash in the US is biodegradable material that could be composted. Through composting programs, we can return these nutrients to the soil. Think farm to table . . . to farm.
Compost works wonders for soil. It can:
Conserve water by decreasing irrigation use.
Produce more crops.
Reduce the need for chemical fertilizers and pesticides.
Suppress plant diseases and pests, thereby producing healthier plants.
Protect against both erosion and flooding.
Filter pollution out of the soil and restore contaminated lands.
Every investment in our soil is an investment in cleaner air and water, healthier food, diverse ecosystems, and a stable climate.
Soil Is a Secret Weapon Against Climate Change
You've heard that planting a tree can reduce your climate footprint because trees pull carbon dioxide out of the atmosphere. But did you know that soil stores carbon too—and a lot of it? Soil can store three times more carbon than plants or our atmosphere can.
That means applying compost to our soils can help pull carbon out of the atmosphere and fight climate change. So instead of just working to put fewer CO2 emissions into our atmosphere, with composting we can actually pull down what's already been emitted and sequester it in our soil.
In fact, exciting research out of Marin County, California, shows that widespread compost use could make a big dent in our carbon emissions. Studies by the Marin Carbon Project show that applying 1/2 inch of compost on rangeland will continue to sequester carbon for over a decade. These findings suggest that carbon farming has the potential to be as powerful a climate-fighting solution as wind power, solar power, or EVs.
We can also tackle climate change by keeping organic materials out of the landfill as much as possible. When organics such as leftover food and grass clippings decompose in a landfill, the result is methane, a greenhouse gas 84 times more powerful than carbon dioxide.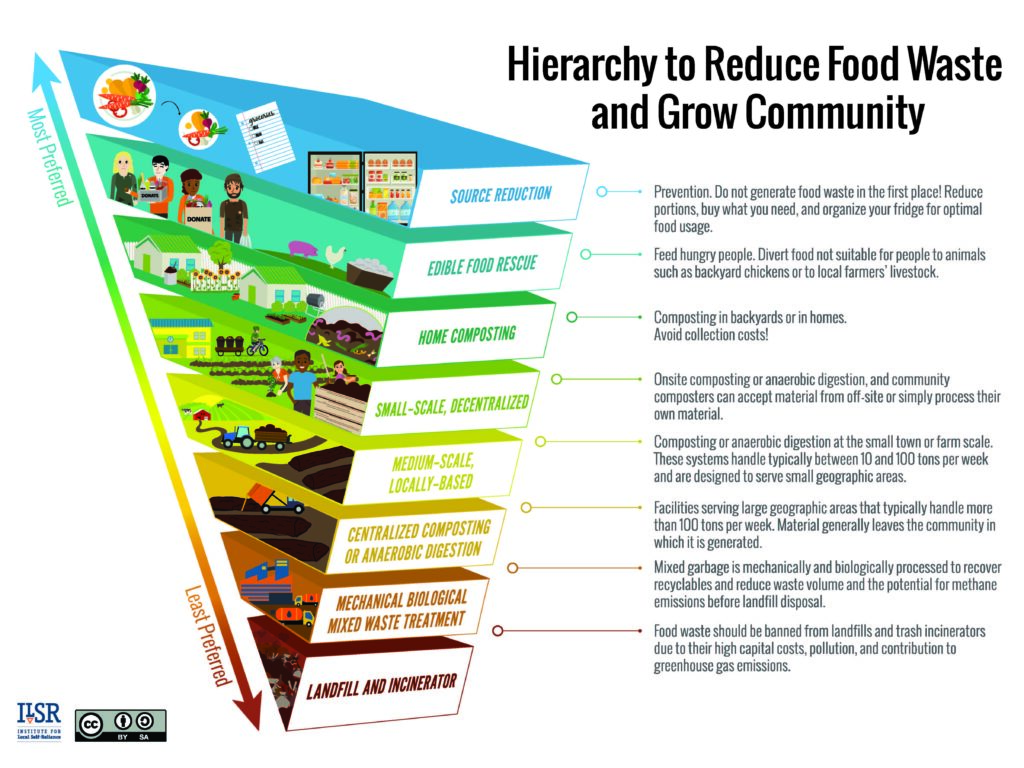 Your Two-Part Solution: Composting and Using Compost
Zero Waste teaches us to first reduce our food waste and yard trimmings, then compost what's left and return the nutrients back to the soil. That means you have two key action steps:
Separate your organic discards for composting, including food scraps, grass clippings, leaves, and branches. From backyard bins to worm composting to curbside collection programs, there are lots of ways to compost. Find the solution that's right for you.
Use the compost at home, at work, at school, and everywhere in your community. Applying compost isn't just about our farmland. Everywhere we see dirt—from our gardens to our parks to our highway medians—is an opportunity to build healthier soil and fight climate change.

Learn more about how to apply compost to your lawn.
More Benefits of Zero Waste
Composting and recycling also boost our local economies by creating jobs and producing value from our discards.