Zero Waste Strategies Are Essential to Support Our Growing Global Populations
Our unsustainable reliance on natural resource extraction and throwaway models of consumption have had devastating impacts both on our planet and our people. Our global consumption of natural resources has tripled since 1970, rising faster than population growth. Globally, we are consuming over 13 tons of materials per person per year and extracting over 100 billion tons of raw materials every year.
Global resource use has more than tripled since 1970, yet global material productivity (the amount of economic output generated per unit of materials consumed) has not improved in the last twenty years. Source: United Nations Global Resources Outlook
There is growing global consensus—from social and environmental organizations to multinational corporations, all the way up to the United Nations—that we cannot sustain our current extraction-based economy and need to transition to a circular economy. Simply put, we have a growing population of nearly 8 billion people living on one finite planet. Our supplies of fresh water, fossil fuels, metals, and other natural resources are limited—and, in many cases, dwindling. In the next 50 years, we're likely to run out of many of the raw materials that support our lives, including silver, copper, and oil, just to name a few. We need these resources to support our current and future populations, yet we bury or burn two-thirds of our waste every day in the US, destroying the value of these materials and perpetuating our reliance on resource extraction—all while the negative impacts to our environment and health are mounting.
A Zero Waste system helps us live within our planet's means by using resources more efficiently so we have the raw materials to sustain future generations of humans and other species. Zero Waste is essential for building resilient communities that thrive on an equitable and healthy planet.
Zero Waste Reduces Resource Extraction and Destruction
For every can of garbage we produce in the US, there are 87 cans' worth of materials that come from industries that make our products and packaging, including timber, agricultural, mining, and petroleum waste. We call this the "upstream" impact of our consumption. Through reuse, repair, remanufacturing, and recycling, we can reduce this waste by over 90% and make new products from recycled feedstocks, instead of extracting more natural resources. Zero Waste is the gateway to a circular economy—where materials are used and reused. Here are a few examples of how recycling reduces our consumption of natural resources and the negative impacts of extraction and processing:
The world's supply of natural resources is limited, and given current consumption levels, we may run out of some of the most critical minerals, nutrients, and raw materials that support our everyday lives. Source: BBC
Zero Waste Reduces Energy Consumption and Use of Fossil Fuels
Using recycled materials to make new products requires less energy in the manufacturing process than making products from trees, fossil fuels, or metal ores. Manufacturers can reduce their energy use by 30 to 90% by using our recycled paper, glass, metal, and plastic to make new products, instead of using trees, oil, natural gas, and raw minerals. This means that by recycling and remanufacturing, we decrease our use of fossil fuels including oil, natural gas, and coal, and by doing so, we reduce our greenhouse gas emissions as well. Recycling and composting in the US saved over 1.1 quadrillion BTU of energy in 2014. That's the same amount of energy as over 25 million US households consume per year.
Calculate your energy and greenhouse gas savings achieved by implementing Zero Waste policies and practices:
Use the EPA's iWARM tool (Individual Waste Reduction Model) to see how much energy you save every time you recycle.
Use the EPA's WARM tool to calculate how much your community can reduce energy use and greenhouse gas emissions through Zero Waste.
These energy savings are far greater than the energy used to transport our recycling, including the extra trucks used to pick up recycling from your home or business. For every 100 tons of recycling collected in the US, we have a net savings of nearly 290 tons of carbon emissions, and yet we only produce about 4 tons of carbon emissions in the transportation of these materials.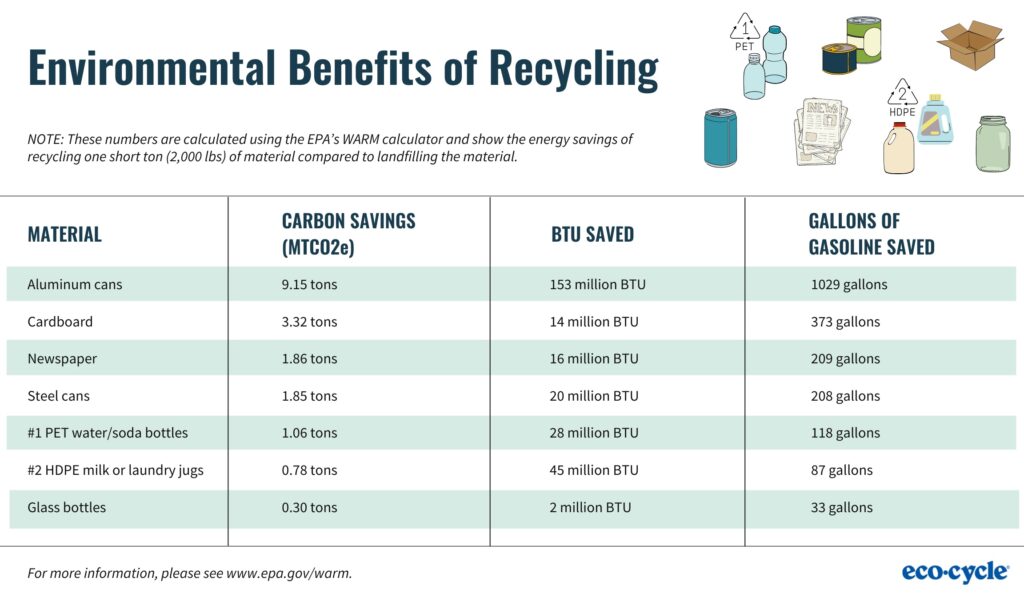 Zero Waste Reduces Water Consumption
The process of extracting raw materials and processing them into new products is not only energy-intensive; it's water-intensive, too. While agriculture is the biggest industrial user of water, the generation of electricity and production of iron are also strong factors in driving water stress. Here are a few examples of how Zero Waste promotes water conservation:
Zero Waste Supports Healthy Ecosystems
Zero Waste is not just about keeping trees standing or reducing mining and drilling activities. When we recycle our materials and reduce our consumption, we're promoting healthy ecosystems and preventing the destruction of natural habitats, which support humans and every species on Earth. Nearly 90% of biodiversity loss and water stress is caused by resource extraction and processing. Healthy ecosystems provide numerous benefits, including clean water, carbon storage, wildlife habitat, and biodiversity. These benefits and their support of the global community are valued at more than $125 trillion per year, which means healthy ecosystems are good for our environment and our economy.