Recycling guidelines change, but we'll always keep you informed.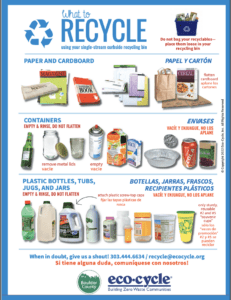 Eco-Cycle brought curbside recycling to Boulder back in 1976, and a lot has changed since then as new packaging materials enter the market and sorting equipment evolves!
If you have questions about which plastics to recycle, where to take hard-to-recycle materials like your old electronics for responsible recycling, or where and how recycling happens locally, we're here to answer!
Or, search our A–Z Recycling Guide below.
Explore Eco-Cycle's A–Z Recycling Guide