Recycling correctly is the best way to support your community's recycling program.
Clean, uncontaminated recyclables retain more value, are easier to sort and process, and save time and money!
Eco-Cycle has been Boulder County's recycler since 1976. Throughout our history, we have maintained a reputation of providing markets with consistently clean recyclables. The key to this success? A community of engaged recyclers who are educated on the what, why, and how of recycling and committed to following guidelines!
About Curbside Recycling in Boulder County
Curbside recycling is available in the larger communities within Boulder County. If you live in a community with access to curbside recycling, your city or town will have one or more haulers that provide curbside recycling services to you. Pickup schedules will vary based on your hauler and location, but it's generally a good idea to put your materials out before 7 a.m. on your pickup day.
Once your hauler picks up your recyclables, they are taken to the Boulder County Recycling Center (BCRC), owned by Boulder County and operated by Eco-Cycle. If you live in Boulder County, please follow these curbside recycling guidelines to ensure your materials are accepted for recycling and have been prepared correctly (more on this below!). All haulers using the Boulder County Recycling Center follow these guidelines. Note: If you live in a smaller Boulder County community with no curbside recycling available, click here to learn about drop-off recycling programs near you. The same acceptance guidelines apply to all Boulder County drop-off sites, since the recyclables collected at these transfer stations are brought to the BCRC for processing.
Recycling Guidelines for Boulder County
Here's a list of what can be recycled in your curbside recycling bin in Boulder County:
newspapers
magazines
paperback books
notepads and spiral-bound notebooks (no need to remove spiral bindings)
junk mail (please open and remove stickers and other non-paper items)
paper envelopes (plastic windows OK)
printer paper
paper bags
cereal boxes, flattened (liners discarded)
cardboard boxes (flattened)
single-use glass beverage bottles (such as beer and wine bottles)
single-use glass food jars (lids removed and recycled separately)
empty metal spray canisters
cartons (such as milk, juice, and non-dairy milks—NO POUCHES)
aluminum trays, pans, and pie plates
aluminum foil (rinsed of food residue and NOT FLATTENED—please ball into at least two inches in diameter)
aluminum beverage cans (empty and rinsed)
steel food cans (empty and rinsed)
plastic bottles, tubs, jugs, and jars (such as soda and juice bottles, laundry soap jugs, yogurt tubs, peanut butter jars, shampoo bottles, and vitamin/supplement containers—plastic screw-top lids can be replaced on EMPTY containers)
plastic tub lids (such as lids from margarine tubs)
"souvenir" drinking cups made from #2 or #5 plastic (NO #1 plastic drink cups, such as for iced coffee)
plastic clamshell containers* (such as for berries or greens—remove any liners, NO styrofoam)
plastic prescription bottles (empty, caps reattached)
plastic takeout containers* (rinsed of food residue, NO styrofoam )
plastic flower pots (rigid)
rigid plastic four- and six-pack holders
plastic crates
plastic buckets (metal handles may remain attached)
plastic lawn toys (all metal parts must be removed, and all materials must fit inside curbside bin)
What NOT to Recycle: The Dirty Dozen
What stays OUT of the recycling bin is just as important as what goes in.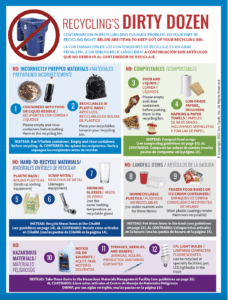 Contamination in recycling bins is a huge problem. Do your part by recycling right! Below are items to keep out of your recycling bin—and how to properly dispose of them.