Be Original Boulder County Celebration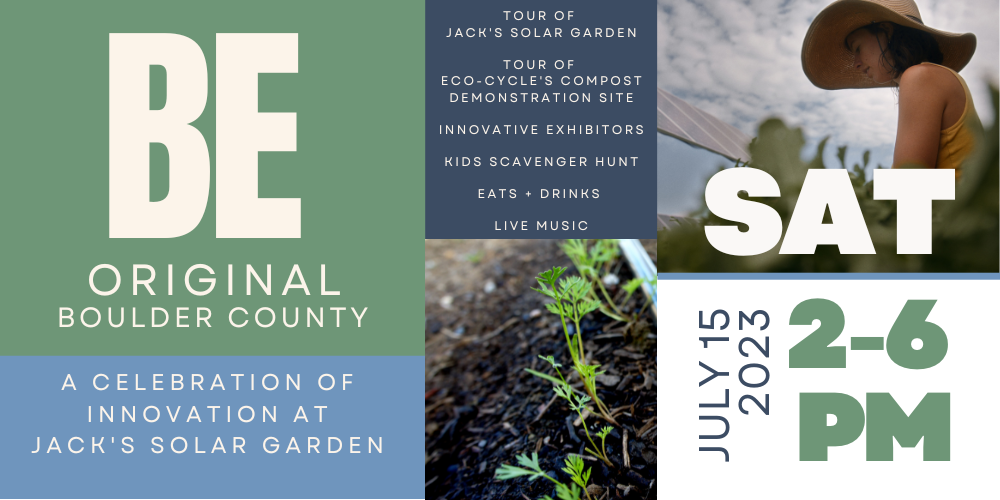 Join us at Jack's Solar Garden on Saturday, July 15, 2023 for solar garden tours, compost demonstrations, and family-friendly activities!
Eco-Cycle and the Colorado Agrivoltaic Learning Center (CALC) invite you to Jack's Solar Garden for a celebration of local innovations in renewable energy, agrivoltaics, compost, and regenerative agriculture that are creating a more climate-resilient community in Colorado.
Take a Tour!
With your ticket, you'll have an opportunity to participate in a guided tour (about 45 minutes) of Jack's Solar Garden and Eco-Cycle's onsite compost and carbon farming demonstration project, at 2:30 and 4:30pm. You'll also learn about CALC research partners such as the National Renewable Energy Laboratory (NREL), Colorado State University (CSU), and Audubon Rockies, and their ongoing studies.
Farm Activities for Kids
Kids will have the chance to get their hands dirty, using quality local compost to plant sunflower seeds, picking raspberries growing throughout the solar array, getting comfortable with helpful composters like earthworms and sowbugs, and interacting with the farm through an engaging scavenger hunt!
World-renowned banjo player Pete Wernick (aka "Dr. Banjo") will be performing live from 3:15–5:30 in the heart of the solar array. Bring a blanket and enjoy the music, plus free snacks and drinks!
Hope to see you there!
You can purchase tickets at bit.ly/be-original-celebration:
$25/Adult ticket (over 18 years old)
$10/Youth ticket (9–18 years old)
Free ticket for children (8 years old and under)