The Future of Reuse: Zero Waste Grocery Stores & Food Delivery Systems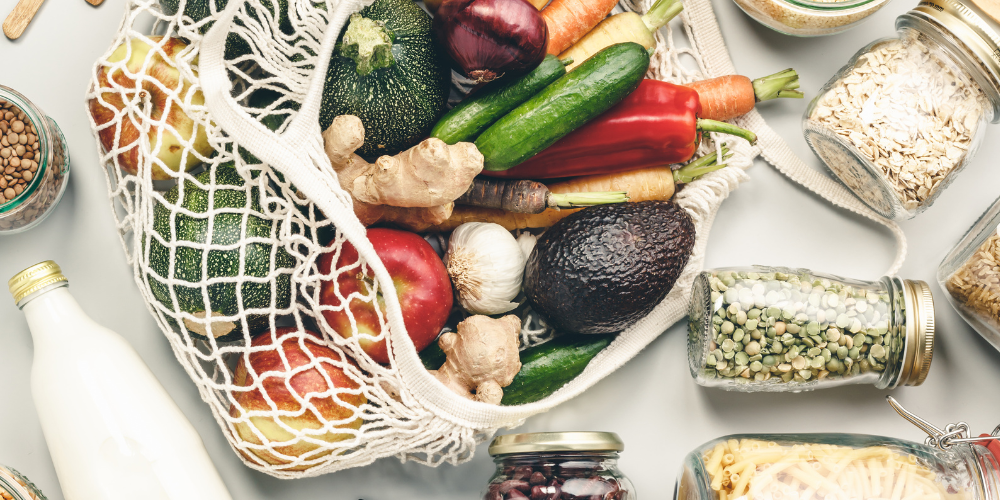 The future of reducing plastic may very well be going back to the past—a time when reuse and refill systems for things like groceries and beverages was the norm and disposable plastics weren't an accepted, unnecessary evil. Reuse is making a major comeback to demonstrate that we don't HAVE to have disposables. So before you order your take-out food or go shopping for groceries, consider the businesses that are leading this new path forward by putting reusable containers at your fingertips and making it easy to opt out of single-use plastics. Zero Waste grocery stores and reusable food delivery systems help to prevent the need to produce more plastic in the first place, which has widespread benefits in combating the climate crisis—from reducing the demand for fossil fuels used to produce plastics, to avoiding widespread plastic pollution.
Trashing Our Throw-Away Culture
Reducing single-use plastics requires changing mainstream conceptions about food packaging and delivery. Instead of throwing away single-use products, it's time we discard a culture that perpetuates the single-use problem in the first place. Fortunately, there are increasingly more reuse options available to businesses and consumers. Several Zero Waste models have been developed in Boulder County and beyond to integrate circular models into the community and to make it easy for customers to choose to reuse.
Nude Foods in Boulder is a Zero Waste grocery store that demonstrates the potential for successful reuse systems. Over 1,000 types of food products and other goods are packaged in glass jars, bread is sold in reusable canvas sacks, and customers can bring in their own containers for bulk purchases, from nuts and granola to soaps and laundry detergent. Empty jars and sacks can be returned to the store where they will be cleaned, sanitized, and reused for future use; the customer is not required to do the cleaning of the store-owned containers. Nude Foods offers delivery services to Boulder, Louisville, Niwot, Superior, and Denver using an electric vehicle for a $7 fee Tuesday–Friday.
While you're at Nude Foods, check out their Zero Waste Party Pack, a reusable alternative to compostable plates for events and parties. Rent the pack (which includes plates, bowls, utensils, cups, and serving bowls) and when the party's over, there's no need to do any washing! Just return the kit and Nude Foods will sanitize and repack it for the next event.
Simply Bulk is a Zero Waste grocery store in Longmont that encourages customers to "pay for the product, not the packaging" by bringing in their own clean containers to fill up with products. Simply Bulk offers food, pet supplies, personal care supplies, and more, including a bulk-size block of soap where customers can cut off and purchase only the amount they need.
DeliverZero is a delivery service changing the face of food delivery systems. While ordering to-go usually means you'll end up with a pile of plastic-coated paper and non-recyclable plastics in the trash, DeliverZero allows you to request that your order be packaged in reusable, returnable containers—at NO cost to the restaurant and for just a $0.99 fee to the customer. Customers can search for participating restaurants and order their food through DeliverZero or through third-party food delivery platforms. Afterward, individuals have three weeks to return their reusable packaging at any designated return point. You can even schedule a pick-up at your door. The containers are BPA-free and meant to be reused up to 1,000 times while withstanding heat from a commercial dishwasher.
For every 1 million DeliverZero containers used, DeliverZero claims, over 25 tons of packaging waste would be diverted from landfills when compared to single-use plastics and compostables, over 440,000 gallons of water would be saved when compared to compostables, and over 110 tons of Greenhouse Gases (GHGs) would be avoided when compared to single-use plastics and compostables.
R.Cup is a national reuse company devoted to supplying reusable cups to large-scale venues and events in 70 cities, 30 US states, 12 countries, and 90 venues. Live events in the US go through 4 billion single-use cups each year! As an alternative to disposable plastics, the company utilizes durable polypropylene that is washed and sanitized in a commercial dishwasher. Any damaged or retired cups are upcycled into other items. Organizations can partner with r.Cup to provide full service to events, from delivery to collection of the reusable cups.
Do you know of a great reusable model not featured here? Let us know so we can spread the word and the reuse revolution!