A Legislative Victory for Clean Compost in Colorado!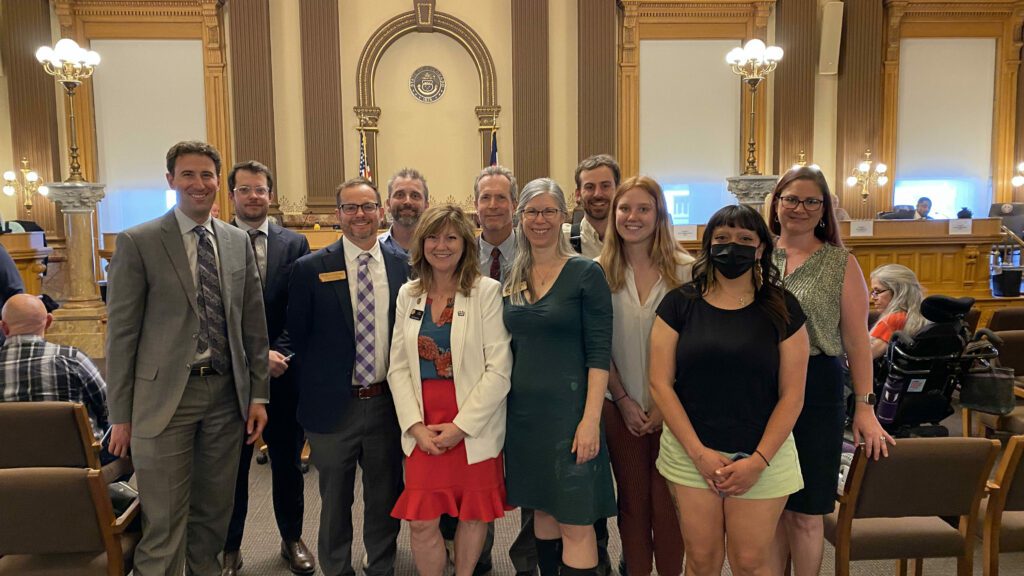 As the Colorado legislature session came to an end last week, two bills that Eco-Cycle and our partners helped draft and advocate for are headed to Governor Polis' desk to be signed into law! Both of these bills will help promote an expanding clean compost system in Colorado: SB23-253: Standards For Products Represented As Compostable will help reduce compost contamination by prohibiting false marketing practices oft "look-alike" compostable products, while SB23-91: Organics Diversion Study will help the state and local governments understand the policies, tools, infrastructure, and end markets needed to divert food, yard trimmings, and other organics from the landfill.
Each year, Colorado needlessly fills up its landfills with food scraps and yard trimmings, composting only 6% of its food scraps, yard trimmings, and other organic materials. When buried in a landfill, organics decompose anaerobically (without oxygen) and in the process become the number one source of human-caused methane—a greenhouse gas that traps 84 times more heat in the atmosphere than carbon dioxide in the short term. If we turn these organic discards into compost instead of landfilling them, we can prevent methane emissions at landfills. If we then apply compost to landscapes, we can build healthy soils. Healthier soils grow healthier plants which absorb more carbon dioxide from the atmosphere and store it safely in the soil where it belongs.
Here's what the bills will do:
Standards For Products Represented As Compostable (SB23-153) will reduce consumer confusion about the compostability of products and will significantly reduce contamination in compost by creating a clear standard for labeling compostable products by:
Requiring that products represented as compostable must be certified by a credible third party (such as BPI or CMA) and clearly labeled to be sold or marketed as compostable in the state of Colorado.
Prohibiting producers of products that are not certified compostable from labeling, marketing, or advertising these products as compostable. They would also be prohibited from using labels, images, or words that could mislead the consumer into believing the product is compostable.
Organics Diversion Study (SB23-191) will require the Colorado Department of Public Health and Environment (CDPHE) to look at how the state can put millions of tons of organic materials that now go to the landfill into more productive uses—feeding hungry Coloradans, supporting resilient local economies, creating green jobs, more productive agricultural lands, and building healthier soils that are more resilient to flooding and drought. The bill requires CDPHE to engage stakeholders and make recommendations to:
Invest in organic materials diversion and composting infrastructure statewide, and
Develop policies to divert organic materials away from landfills and into beneficial uses, including feeding hungry people, feeding animals, and producing compost, mulch, and biochar (or diverting to anaerobic digestion).
"We've worked hard over the last few years to develop Zero Waste policies and infrastructure in Colorado, and our bills are a logical next step." said State Senator Lisa Cutter, the Senate sponsor of both SB23-253 and SB23-191. "We've been leading the way nationwide in our efforts to create a greener state, and this will help solidify Colorado's standing as a leader in zero waste policy."
Thank you to our Eco-Cycle community of activists who took the time to support these bills by contacting their senator and representative! Together, over the past 4 years we have successfully championed EIGHT pieces of Zero Waste statewide legislation!